REZEPTE
Buckwheat cannelloni with king crab, caviar & hokkaido pumpkin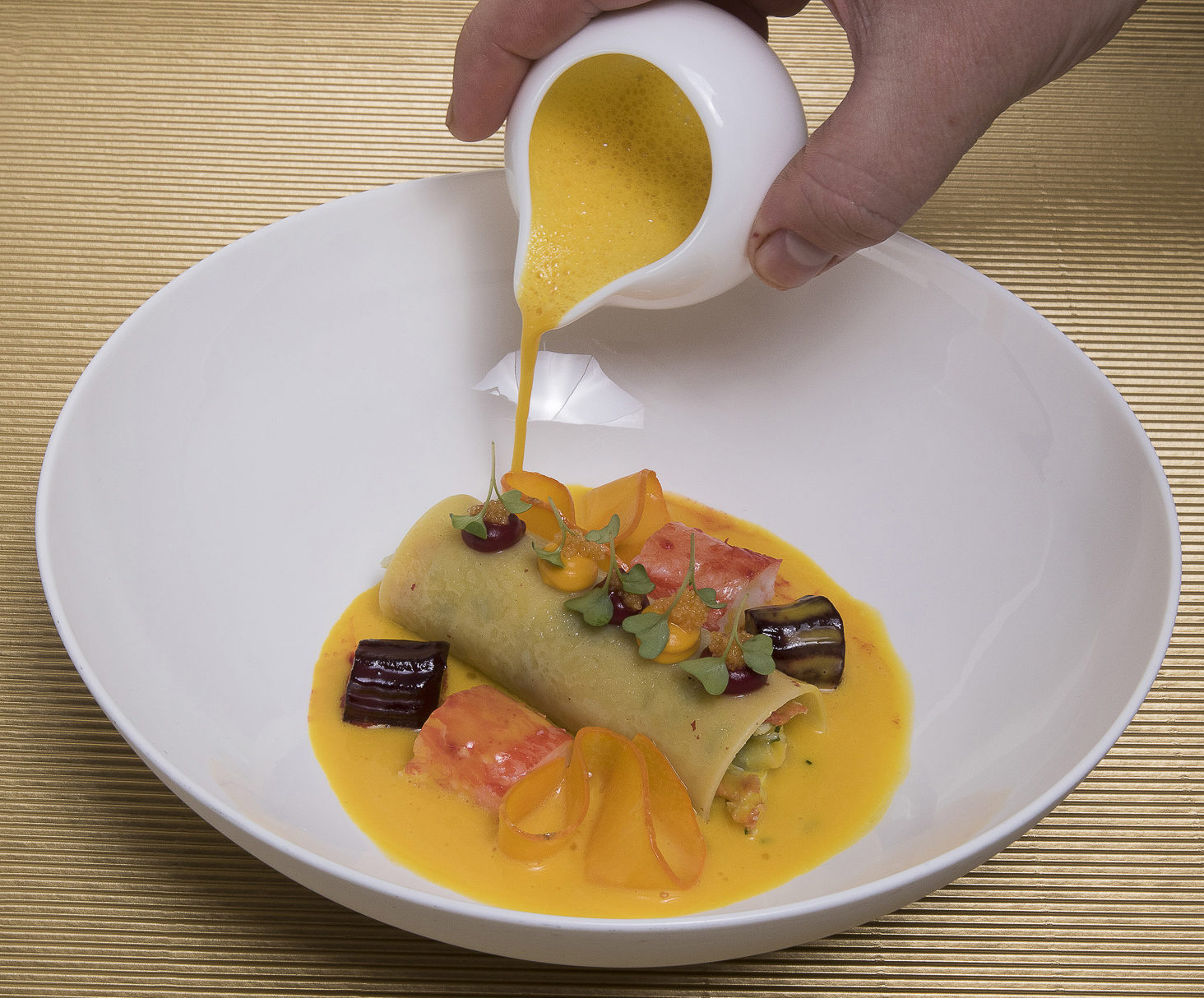 Ingredients for noodle dough:
300 gr buckwheat flour
100 gr wheat flour
100 gr durum wheat semolina
20 egg yolk
2 table spoon olive oil
Preperation:
You knead the whole flour with egg yolk, olive oil and salt to the smooth dough.
Then you put the dough in a fridge for letting rest for 2 / 3 hours.
After this time you roll out the dough , cut it into 8 cm wide and 10 cm long rectangles.
This rectangles have to be cooked in boiling water for 2 minutes.
Filling for the cannelloni:
Ingredients:
King crab 320 gr (just meat)
1 bunch chives (fine cut)
100 gr caviar
a bit olive oil
1 lime
Salt
Preperation:
You heat a bit olive oil in a pan and make the king crab meat warm, add salt. Then you mix it with caviar and chives. This you season with lime abrasion and salt.
Pumpkin puree:
Ingredients:
100 gr Hokkaido pumpkin
50 ml coconut milk
500 gr butter
Salt and pepper
1 pinch Xantan
Preparation:
 You cut the pumpkin into small pieces and damp it softly.
Subsequently you mix it in a thermomix with the different ingredients to a creamy puree.
Pumpkin "Sud" – liquid
Ingredients:
300 gr Hokkaido pumpkin
2 small shallots
10 gr ginger
1 lemon grass
2 x kafir leaves
50 gr fennel
120 ml white wine
300 ml vegetable fond
300 ml coconut milk
1 lime
Salt
Preparation:
You cut pumpkin, shallots and fennel in fine cubes / dices. The vegetable staw in butter. Add ginger, lemongrass, kafir leaves and wipe of with white wine. Fill up with vegetable fond and coconut milk, spice up with salt and lime and then it have to boil, that the vegetable will be soft.
Then you mix it in a thermomix and pass it through a sieve.
Just before you finish the dish, you make it warm once again and use a hand blender for create a foam.
Hokkaido pumpkin variation
Pickled pumpkin Ingredients:
3 kg Hokkaido pumpkin
500 ml sherry vinegar
500 ml white wine
500 ml apple juice
200 gr sugar
5 x bay leaves
10 gr kubeben pepper
1 cinnamon stick
20 gr fresh ginger
2 table spoon mustard seeds
2 x star anise
2 table spoon coriander seed
2 table spoon salt
Preparation:
You cut the pumpkin in thin slices.
You boil the vinegar together with white wine, apple juice and sugar, add the spices and steep this during the night. Pass the fond through a micro screen and fill it hot together with the pumpkin in jars – special glasses. Take it in a fridge for a few days for steeping.
Finish:
You fill in the king crab meat into the dough retangles and put it in the middle of the plate. Dish up the pickled pumpkin next to the cannelloni. On the top of the cannelloni you put 5 points of the pumpkin puree and decorate with caviar.
At the guest you pour the pumpkin sud that is foamed up.